Susumu Sakaguchi Painter
I was born in Japan at the end of World War II, immigrant to the United States of America in 1956 at age 12. I grew up in downtown Los Angeles. I began my study of fine arts at Otis Institue of Arts at age 14 and enrolled in California Institute of Arts of Graduate School in 1971. Studied under Nam-June Paik/Video-Arts; John Baldessari/Conceptual-Art; Allan Kaprow/Concept of Happening; Max Kozloff/Arts History and Criticism; Ravi Shankar/Concept of Music; painting by Mariam Schapiro and Poul Brach. Among the students were Ross Bleckner, Gary Lang, Jack Goldstein, Eric Fischl, David Salle and others. After finishing Cal-Arts, I moved to New York City in 1973.
Since I was caught in a double cultural experience, I began to realize my sensibility of consciousness has ambiguously apprised that of images and sense.To clarify the ambiguity of images and senses, I began to paint in two separate canvases in one single length of time by splashing paints of Mist into dots with brush, layers into layers,
and controlling dots of totally meditation. On the other mind I painted images of clear conscious.
The layer of colors transforms subconscious state;my double cultural experiences are also images and senses which I hope to understand and translate of self-real, through the process of painting.
SUSUMU SAKAGUCHI
http://www.susumu-sakaguchi.com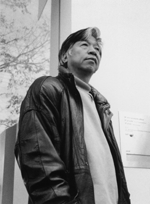 Swing MASA Jazz Saxophonist & Vocalist
MASA is a saxophonist & vocalist actively performing in Japan and the U.S.
Born and raised on Osaka, she started playing saxophone at age 12 and taking private lessons at 15.
After studying performing art at Osaka University of Art, she came to New York City to study saxophone at New School University under the guidance of Reggie Workman.
After receiving BFA, she has performed at Birdland in New York City, Michigan Womyn's Music Festival, Cherry Blossom Festival at (name), the St. Peter's Church in New York City, and Harajuku Quest Hall in Tokyo, Suginami Civic Hall, Kawachinagano Civic Hall, Tondabayashi Civic Hall, Fukuyama Civic Hall, Moriguchi Civic Hall in Osaka, and Dawn Center Hall in Osaka.
She has collaborated with a number of prominent artists, including Dennis Charles, Zane Massey, Ricky Ford, Bross Townsend, Cecil Monrro, Kuni Mikami, Satoshi Inoue, Suhir Blackeagel, Miche Braden, Ubaka Hill, Tishiko Akiyoshi, Masaji Otsuka, Yutaka Sadoyama, Kan Mikami, painter Susumu Sakaguchi, and dancer Shizuno Nasu.
She has recorded two CDs, "Akeno Hoshi o Miagete/Looking up at the morning star" and "Swing MASA Band" and appears as a guest musician for the recordings of Masaji Otsuka, Yutaka Sadoyama , Ubaka Hill, and Suhir Blackeagel.
She lives in New York City and travels extensively throughout Japan and the U.S.
http://www.swingmasa.com E-Mail; swingmasa@aol.com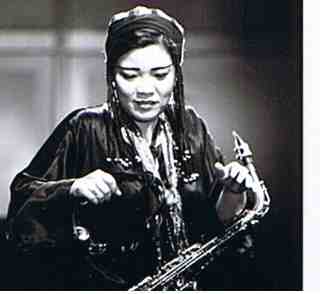 Shizuno Nasu Contemporary Dancer
The spiral of her marvelous body appears in the climax of the performance. The beautiful and passionate spiral tangles with each other and springs the sense of vision and existing values there. At that time, spin is remarkably transformed into spiral to fly somewhere higher from the certain point. If we call it as a "spiral vision" to change the real space into somewhere higher, her gorgeous performance shapely and literally deserves it.
Satoshi Murakami, Curator
Profile:
Educated in western dance since childhood, Shizuno Nasu had her debut as a professional dancer at nineteen years old. It was her quest for her own stylistic voice that eventually led her to study old Japanese mythological dances. For several years, she undertook a pilgrimage, performing in every prefecture of Japan, thus deepening within her the skill and the spirit of mai, the dance.
It is finally beyond the influence of both the West and the East, that Shizuno refines her unique mai, the dance attuned to the rhythms of Mother Nature. "Spiral vision" is her improvisatory dance. Its spirit reflects a universe inside the dancer.
Spiral vision won high praise from such countries as: France, Germany, Italy, Greece, India, South Korea or China as well as U.S.A. and Japan.
Shizuno currently lives on the island of Hawaii, where she continues to generate new works.
http://www.shizuno-nasu.com